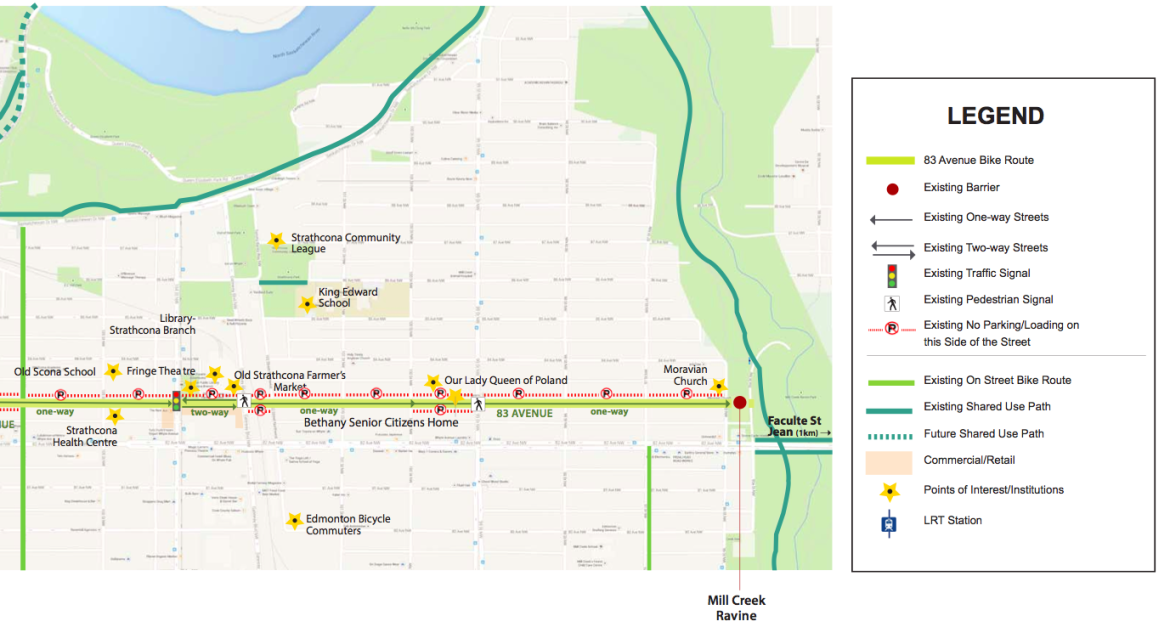 About the Project
The City is planning two major bike routes in the central part of Edmonton. The Strathcona Route will connect the communities of Strathcona, Garneau and the University area, between Mill Creek Ravine and 111 Street. It will connect with destinations that include:
University of Alberta
Faculté Saint-Jean
Mill Creek Ravine
Old Strathcona Farmers' Market
Shopping areas, attractions and festivals
112 Street was originally part of the concept plan. However, the route has been modified to better tie into the existing cycling facilities on 110 Street and 111 Street, to access the University and neighbourhoods to the north and south.
These routes will be high-quality facilities that will make cycling more comfortable for all types of cyclists, from novice riders and families to experienced commuters. They have been identified as major bike routes because they have high numbers of existing bike trips, serve major destinations, and there are frequent requests for bicycle routes in the
area.
83 Avenue is the top ranked location of the future Strathcona Bike Route. It was ranked higher than options on 81, 84, and Whyte Avenues according to technical analysis and feedback gathered from residents during the June public workshops.
Click here to view a PDF of the full route.
Click here for more information on the City of Edmonton website.